The QuietCool system allows for maximum ventilation and home cooling without driving up your energy costs.
Incredible Cooling Power that Saves You Money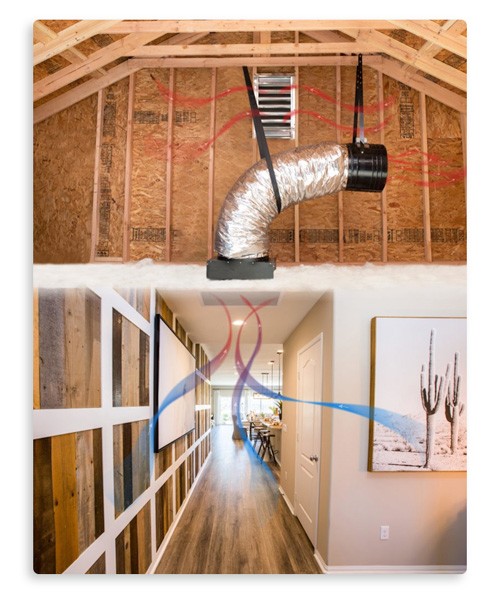 Home ventilation is one of the most important things that you need to consider in your property after all, without fresh air in your home, you'll end up dealing with poor air quality, musty odors, and an HVAC system that is working overtime!
At Environmental Heating & Air Solutions, we understand that, and that's why we're proud to offer energy-efficient QuietCool house fans that are built for performance.
With this innovative system, you can:

Save from 50-90% on Your Home Cooling Costs
See an Incredible ROI in Under Three Years on Average
Add Long-Term Value and Comfort to Your Home
Sounds great, doesn't it?
At EHA Solutions, we can make these benefits your reality by helping you choose the right QuietCool system for the size and needs of your home then we get the job done right with quick, affordable installation!
Enjoy the Long-Term Benefits of Home Fan Installation
Everyone has experienced coming home to a sweltering house at the end of the day, but instead of turning on the air conditioning, all you'll have to do is open a few windows and flip on the QuietCool system.
Our innovative whole-house fans can swap out the air inside your entire home 15-22 times every hour-that means that your home's air will be completely replaced every 3-4 minutes!
The active breeze created by QuietCool delivers intensive air circulation and cooling power, resulting in the "mass cooling" of your home. That means that even if the temperatures remain high outdoors, it will take longer for your home to heat up during the day making it even easier to keep your interior comfortable and your energy costs low. QuietCool can save you up to 50-90% off A/C-related electric costs.
With a QuietCool system, you'll receive:
A wide selection of patented QuietCool products that are built in the USA
High-performance motors and R5 insulated damper system for impressive R-Value
The noise-free operation that lets you comfortably run your new house fan any time of the day
Advanced controls for timed cooling and zoned systems to maximize performance
Incredible energy efficiency-saving you hundreds every year on cooling costs
Reduction of pollutants for better indoor air quality and mold prevention
Impressive 10-year warranties on QuietCool products to protect your investment
Quick and Professional Service from Certified Home Fan Installers
At EHA Solutions, our goal is to always deliver a five-star experience you can feel, and there's no better way to feel the power of our energy-efficient solutions than with the QuietCool system. Our experienced, certified installers have the skills needed to properly evaluate your home, make recommendations on system size, and install a home fan that starts delivering immediate benefits without any of the hassles.
When working with our professionals, you'll know that your project is in the best of hands, and we even help you afford your cooling upgrade by offering flexible financing options!
Request More Information and a Free Quote for QuietCool House Fan Installation!
Having a whole-house fan installed in your home has been shown in a study by UCLA to eliminate the need for an air conditioner in 10 of the 16 California climate zones-so why spend another day dealing with a stuffy, sweltering home?
Get the cooling power you need to keep your home comfortable in the most extreme summer temperatures by calling Environmental Heating & Air Solutions today. We're here to enhance the indoor environment of every home, and all you need to do is call or fill out our simple online form now to request more information and your free quote and consultation!
Explore Options